Disable Users in Active Directory
Disable users using Active Directory Users and Computers
Using the ADUC console you can easily select one or more user accounts to disable.
To disable a single account just browse to the organizational unit, right-click on the account then select disable account.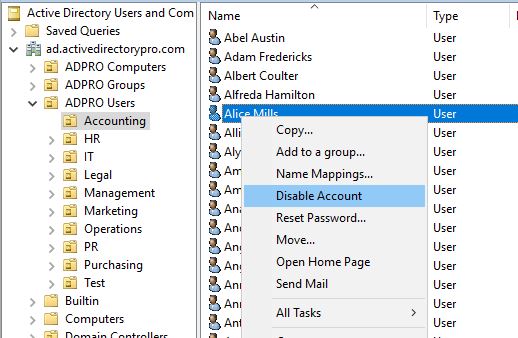 To disable multiple accounts just hold down the ctrl key and select multiple accounts then right-click and select disable account. In this example I just randomly selected multiple accounts from the Accounting OU.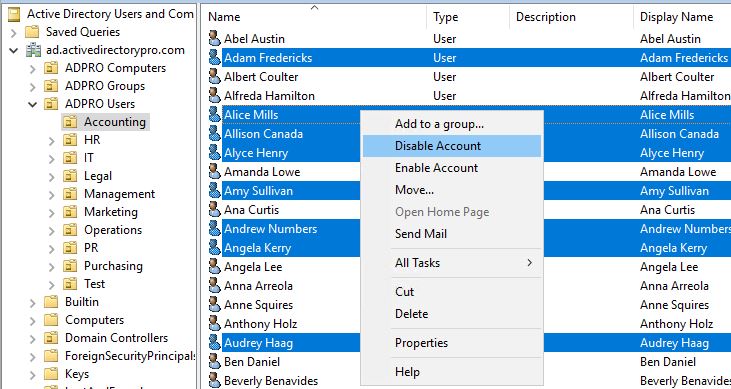 As you can see it is very easy to disable user accounts using the ADUC console. This method works well if you have a few accounts that are in the same OU. If you have a big list of accounts that are in various OUs then you will want to use PowerShell.

Related Articles

Add New User in Active Directory

The AD Administrator is a very powerful user for Active Directory as you can restrict or open capabilities to other users and computer, install/uninstall programs and can even shut down any member computer using the Admin user. That is why you should ...

How you can reset password of your O365 Account

Let people reset their own passwords These steps turn on self-service password reset for everyone in your business. In the admin center, go to the Settings > Org settings page. At the top of the Org settings page, select the Security & Privacy tab. ...